Types of Title Insurance Policies
April 02, 2018

Buying a home is not easy. For most, it is the biggest investment of their life. There are so many irregularities that could come into play that can jeopardize your claim on the property, which makes the whole situation a bit overwhelming.
Fortunately, there is such a thing as title insurance. Its sole purpose is to precisely help you and your lender protect their investment and deal with any unforeseen circumstances, if they ever were to happen.
You happened to stumble upon this blog post probably because you're wondering:
What Exactly Is Title Insurance and Why Do I Need It?
Well, title insurance is a contractual agreement that will protect you as an owner, and your lender against any unknown or undisclosed issues that might arise from the real estate transaction and jeopardize your ownership and the lender's interest.
As any other contract, title insurance policies are subject to local laws, conditions, exclusions and specific terms. So, if for instance you live in Miami and need title insurance, it's best to choose a Florida title insurance company.
There are two separate types of policies designed to protect two different parties within the real estate transaction:
The Owner's Policy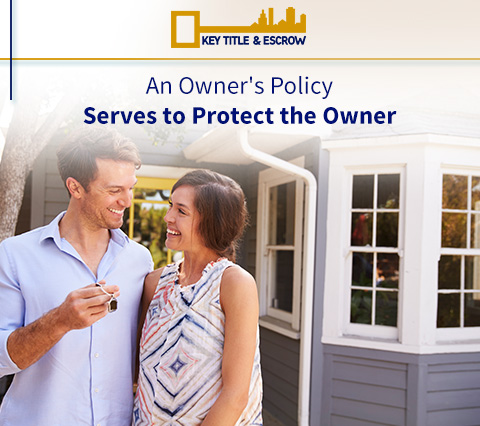 An owner's policy serves to protect the owner from any problem that might affect his or her ownership rights. What this policy covers may vary depending on local laws, conditions, exclusions and specific terms. However, it usually protects against problems such as:
Liens on the title:
There's always the possibility that previous owners were in debt and their creditors placed or will place liens on the property you've just purchased.


Undisclosed heirs:
When buying a property where prior owners have passed away, there's the possibility of an undiscovered will or a missing or unknown heir to arise and affect your ownership by claiming their hereditary rights.


Defects or errors on the title:
Titles and public records are not immune to human error. Unfortunately, a simple error or defect as a typo or a filing mistake can be a burden in both time and money to fix.


Illegal deeds due to omissions:
Previous owners may have willingly or unknowingly omitted details that could also affect your legal claims on the property. For instance, he or she could have been a minor, undocumented immigrant, or have any other reason that would make him or her legally unable to perform the transaction.


Forgery and fraud:
Unfortunately, there are still plenty of people looking to earn an easy buck by scamming others with forged documents and even impersonating a former owner. Obviously, these circumstances can seriously put your ownership and investment at risk.


Other undiscovered encumbrances:
An unknown easement, a boundary or survey dispute, or a third party that holds claim to your property are a few more on the list of problems that could ultimately affect your ownership and could be covered by an owner's policy.
An owner's policy is issued for the full amount of the property's value when the real estate transaction took place. This means that if you buy a property for $500,000.00, the owner's policy will be issued for that exact value. It is a one-time purchase that covers you or your heirs for as long as you hold interest in the property. On the other hand, a lender's policy does not need to be repurchased upon refinancing.
The Lender's or Loan Policy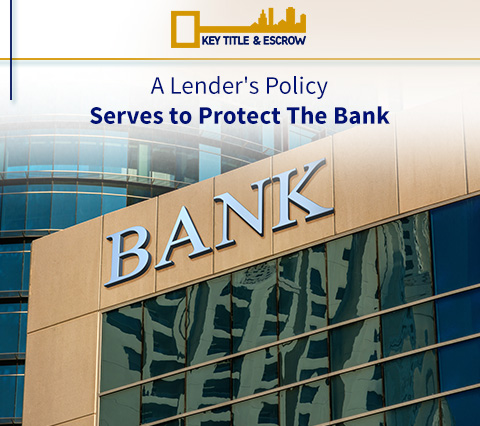 A lender's policy (also known as a loan or mortgagee policy) serves to protect the bank or lending institution for the amount of money they put the loan in. This means that if, for instance, a bank loans you $100,000.00 for your property that the policy will be issued for $100,000.00.
This type of policy protects the lender from losses and damages included in the owner's policy, but also from those caused by omissions that might put the lender second in line as a creditor.
Purchasing a lender's policy is common prerequisite that most lending institutions ask for before giving out the loan. It's usually issued with standard terms and conditions approved by the American Land Title Association. These standard policies are known as ALTA policies.
Contrary to an owner's and other types of insurance policies, a lender's policy covers only the lender for the lifespan of the loan or for as long as it holds interest on the property. In other words, it lasts until the debt is repaid or when a new loan is required, such as when the property goes through refinancing.
If you're looking for a
Florida title insurance company
that has the experience and is more than capable of providing title insurance and real estate needs, then look no further! At Key Title & Escrow we have written procedures and highly experienced professionals who are ready to help you protect your investment.
Just contact us by dialing
(305) 235-4571
or simply filling out the contact form found on the bottom of this page. We will gladly give you title insurance policies quotes, thoroughly explain the rates, and address any other questions you might have. To learn more about us and what we offer, find us on
Facebook as Key Title & Escrow
and follow us on
Twitter @KeyTitle_Escrow
. Also, be sure to subscribe to our
newsletter
to periodically receive updates on real estate, escrows, and related topics.