Title Agency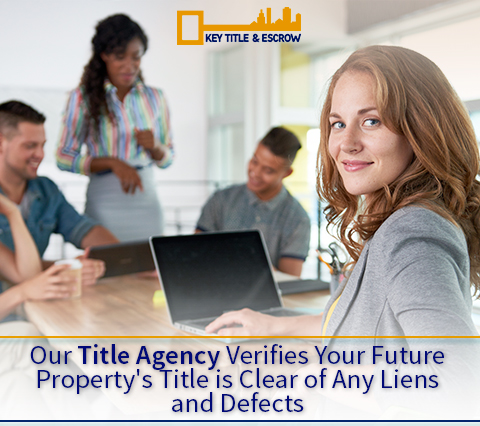 Do you need a reputable title agency to help you with your real estate investments? Key Title & Escrow is an experienced title agency serving the entire state of Florida. We offer title and escrow services to buyers, lenders, and real estate professionals who look for efficient and speedy title services.
We are a swift and efficient title agency offering our clients access to state-of-the-art technologies that make real estate processes and transactions a piece of cake. Our main goal is to offer a reliable and friendly service to purchasers, lenders and realtors.
A premier title agency will make any real estate process a breeze
An efficient title agency will verify that the title of your potential property is clear of any liens, defects, or any other encumbrances, done in the most comprehensive way because we know how important it is to have a clean title when you own a property.
Getting your property's title insured after performing a thorough title search is an important step in any real estate transaction. It provides peace of mind knowing that your investment is safe from potential claims on any property you purchase, and the benefits are both for the lender and the buyer. That is why it is so important to hire a trustworthy and experienced title agency.
Key Title & Escrow is an official issuing title agency of Stewart Information Services Corporation, an international real estate products and services company that offers title services and products through a network of Stewart Trusted Providers and family of companies.
Lorna E - Miami, FL
March 08, 2016
Tweet
My many years as an insurance agent. I have had the pleasure of working with Key Title, both Kim and her team provide excellent customer service. Usually, my clients have questions regarding their title for their property and I have to say their expertise and proficient in handling my clients concerns are superb. I truly recommend them for any service needed in title or escrow, couldn't have asked for a better team.
via:

See more testimonials
A trustworthy title agency
If you need the services of a solid title agency that can meet all your title and escrow needs in Florida, our specialists are here to assist you with anything you need. You can rest assured our title agency will handle all transactions efficiently and in a timely manner. Call us at
(305) 235-4571
or send us a message via our
contact
page and one of our experienced agents will answer any question you may have.

(305) 235-4571