Title and Escrow Service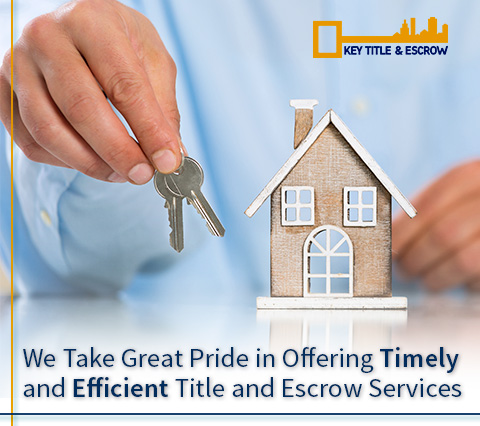 Are you searching for a title and escrow service provider to guide you and help you through every step of your real estate negotiations? At Key Title & Escrow we offer our title and escrow service to realtors, lenders, and buyers throughout Florida. We can help you deal with anything related to property title searches, escrow holding and closing, and title insurance.
Given the amount of time needed and the volume of paperwork involved in carrying out real estate transactions, buying or selling property can be an overwhelming task. This is where an experienced title and escrow service provider comes in handy, directing each party involved to deal with the entire process in a swift, yet efficient manner, getting fast payouts and turnaround times.
We have been providing a top-quality title and escrow service for more than 20 years to buyers and lenders alike. Our experience, expertise, and reputation precede us and are validated by the constant positive
reviews
left by those who have used our title and escrow service.
Lorna E - Miami, FL
March 08, 2016
Tweet
My many years as an insurance agent. I have had the pleasure of working with Key Title, both Kim and her team provide excellent customer service. Usually, my clients have questions regarding their title for their property and I have to say their expertise and proficient in handling my clients concerns are superb. I truly recommend them for any service needed in title or escrow, couldn't have asked for a better team.
via:

See more testimonials
Buyers, lenders and realtors need that their title and escrow service provider by choice, delivers comprehensive and accurate title information services, as well as efficient and trustworthy escrow services. At Key Title & Escrow we strive to provide the most professional title and escrow service paired with an excellent service to our customers. We offer lenders, realtor and buyers all the resources they might need before and during any real estate transaction, guaranteeing a successful and hassle free experience.
Key Title & Escrow provides premier title and escrow services to Florida residents. If you are looking for timely real estate closing and comprehensive title services, call us at
(305) 235-4571
or fill out the
contact
form on this page. One of our title and escrow service representatives will be happy to answer any queries you may have.

(305) 235-4571