Title Insurance Agent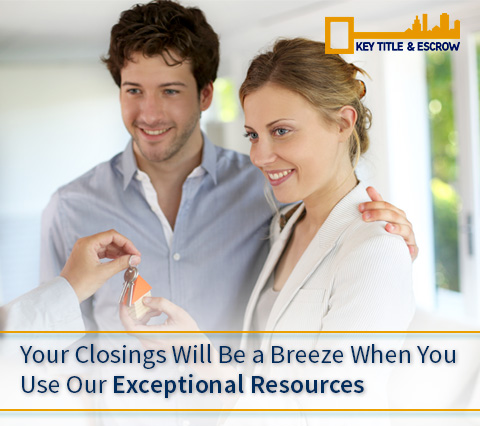 Are you looking for a licensed title insurance agent in Florida to help protect your investment? Key Title & Escrow is staffed with title insurance agents and we are well-known in Florida for our fast turnaround times.
As our name states it, besides providing buyers, realtors, and lenders with a title insurance agent they can rely on, we also offer escrow and title search services. We can guarantee that the title insurance agent you choose will guide you through every step of that stage in the property purchasing process. Our most experienced title insurance agents have 20+ years of experience, having the know-how and expertise necessary to do an expedite job. The help and proficiency of a title insurance agent is a great advantage when carrying out title searches and securing an appropriate title insurance policy upon buying a property. As a lender or buyer, this is the guarantee that your investment is safe, knowing that the work of the title insurance agent is not taken lightly.
Hiring a sound title insurance agent that knows the job inside out is a no brainer. It will save yourself time when performing all the title searches and enquiries necessary to make sure the property that you are going to buy has a clean title, free of any clouds and encumbrances. The right title insurance agent will verify that everything is accurate before closing the negotiations and the escrow account.
Lorna E - Miami, FL
March 08, 2016
Tweet
My many years as an insurance agent. I have had the pleasure of working with Key Title, both Kim and her team provide excellent customer service. Usually, my clients have questions regarding their title for their property and I have to say their expertise and proficient in handling my clients concerns are superb. I truly recommend them for any service needed in title or escrow, couldn't have asked for a better team.
via:

See more testimonials
At Key Title & Escrow we work as a Stewart Title issuing office. Stewart Title is one of the most solid real estate services and products provider in the United States and worldwide.
If you are a realtor, a lender or broker, or a buyer looking for a title insurance agent that offers the perfect combination of efficiency, quality, and excellent customer services, call our offices today at
(305) 235-4571
or fill out the
contact
form to send us a message. A title insurance agent will be ready to answer all your questions.

(305) 235-4571