Title Insurance Service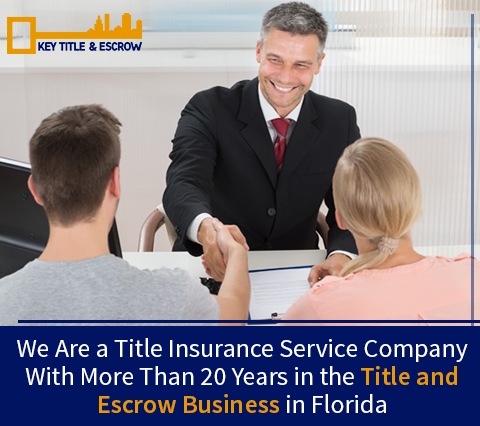 Are you looking for an efficient title insurance service company to help you protect your real estate investments? Key Title & Escrow is a title insurance service company with more than 20 years of experience in the title and escrow business in Florida. We make our best effort to always offer the most thorough and reliable title insurance service to all our clients.
Our title insurance service is backed up by one of the most solid title companies worldwide. As a Stewart Title issuing office, we follow the most rigorous standards set by them. Our work ethics, efficiency, and friendliness have made us stand out amongst realtors, lenders, and buyers in the state of Florida. That is why many of them seek out our title insurance service, as well as all the other services we offer.
A clean, insured title provides the comfort of having your investment protected against future potential claims on the property you buy. Both the lender and the buyer are covered, but their policies are slightly different. The lender's policy's coverage is usually higher than the sale value, but it is valid until the loan has been paid in full. On the other hand, the buyer's policy's coverage is typically the value of the house and it is valid as long as the house belongs to that person or persons. All parties involved in a real estate transaction benefit from hiring a sound title insurance service provider. Our title insurance service representatives will explain all the details in full, when closing the real estate transaction.
Lorna E - Miami, FL
March 08, 2016
Tweet
My many years as an insurance agent. I have had the pleasure of working with Key Title, both Kim and her team provide excellent customer service. Usually, my clients have questions regarding their title for their property and I have to say their expertise and proficient in handling my clients concerns are superb. I truly recommend them for any service needed in title or escrow, couldn't have asked for a better team.
via:

See more testimonials
If you are a realtor, a lender or broker, or a buyer looking for a reliable title insurance service provider that offers the perfect combination of efficiency, quality, and excellent customer service, call our offices today at
(305) 235-4571
or fill out the
contact
form to send us a message. One of our title insurance service representatives will be happy to answer all your questions.

(305) 235-4571