Florida escrow company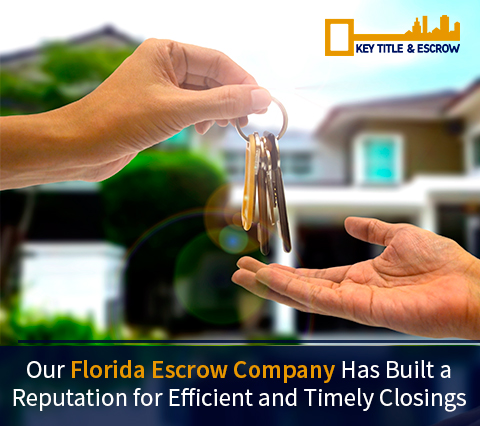 Are you a realtor, a lender, or a buyer searching for a Florida escrow company?
Key Title & Escrow is a leading Florida escrow company that serves the real estate industry of the Sunshine State. Over the course of our 20 + years of experience as a Florida escrow company, we have built a reputation for efficient and timely closings, and we take great pride in offering our customers a service that meets the highest standards thanks to our qualified, honest professionals.
If you are a lender, we will assign you one of our Florida escrow company agents so you can work one-on-one with them and get to know us on an individual basis. If you are a buyer, we will explain the entire process and answer any questions and concerns about the role we fulfill as a Florida escrow company, guiding you every step of the way until the purchase transaction is closed. If you are a realtor, our Florida escrow company will give you access to our state-of-the-art technology so that all transactions can be done in the most effective way possible. Our Florida escrow company is capable of handling all your clients' closing transactions and title work, and it can order payouts and disburse funds once all the parties have reached an agreement. We work hand in hand with lenders, realtors, and attorneys to make sure the entire process runs smoothly.
Find the services of an escrow company in Florida
If you are a realtor, lender, or broker or you are about to buy real property and need a reputable Florida escrow company to help you through the process in an efficient and professional manner, don't hesitate to call us at
(305) 235-4571
or send us a message via our
contact
page. One of our Florida escrow company experts will be glad to answer any of your queries.