Services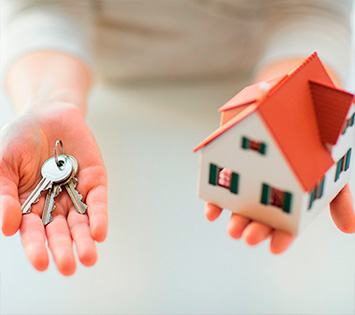 Our title and escow company in Florida offers comprehensive services statewide with fast turnaround times. We take pride in our extensive experience and dedication and continuously strive to provide the highest level of customer service for our clients. Here are some of the title and escrow services we are able to provide for you. Our title services in Florida always provide fast turnaround times, experience, and dedication for higher-level customer service for our clients. We are authorized title insurance agents for the following underwriters.
Property Title Searches
During our
property title search
, Key Title & Escrow looks at past deeds, wills, and trusts filed during the previous 30 years regarding a specific property to ensure that the property's title has been correctly passed to each new owner. Our examiners will also try to verify that all mortgages, judgments, and other liens on the property have been paid in full.
File Your Homestead Exemption
When buying a piece of real estate, a change of ownership can reset the assessed value of the property market value, in turn, raising property taxes. A
homestead exemption
could save homeowners up to $50,000 on their taxable value. Be wary of non-ad valorem assessments that can impact your property tax bill as they are not based on the property's value.
Judgment & Lien Searches
A
judgment and lien search
is a detailed search used to uncover any unsatisfied judgments against a group or an individual. This search protects both the buyer and lender of the property as it will show whether the property belongs to someone else and if the property is clear to purchase.
Record Owner Searches
A
record owner search
needs to be thorough and accurate to discover any claims, defects, or other problems with the property. By looking through deeds, court records, properties, and other documents, this search can uncover any defects, liens, encumbrances, and other restrictions on the property.
1031 Tax Deferred Exchange
Under
Florida 1031 exchange law
, owners of real estate held for investment or used in a trade or business can exchange their property, tax-free, for real estate of "like-kind," which includes apartments, rental houses, retail properties, and office buildings. Without this law, property investors will need to pay taxes each time they move from one investment property to another.
Florida Title Insurance
Searching for
Florida title insurance
quotes or rates? Our team at Key Title & Escrow is here to help you find what you are looking for. We provide our clients with a full range of professional Florida title insurance and real estate services, and every transaction we perform is handled with the highest professional quality.
Florida Homeowner's Insurance
A home is no minor investment, so it is important to get comprehensive
Florida homeowner's insurance
coverage that is tailored to your home and possessions. We work with both national and Florida insurance companies to offer our clients a wide variety of choices for Florida homeowners insurance.
Residential Title Services
For nearly 25 years, Key Title & Escrow has catered to the residential market and has been specifically geared towards residential title services. Any services necessary to research and clear a property title so the property can be sold are all
residential title services
, which include crucial details involving escrow.
Refinance Transactions
If you need debt consolidation loans or other debt consolidation services, Key Title & Escrow has 24 years of experience in the insurance, lending, and real estate industry. Our
title agency
can refinance a home mortgage or perform other
refinancing transactions
, along with providing a complete line of
residential title insurance
services.
Home Purchase Transactions
Buying a home can seem intimidating, luckily our
title closing company
is here to walk you through the standard home buying process. The
home purchase transaction
begins with the purchase and sale agreement between the buyer and seller, followed by a home inspection. After these steps are taken, the buyer and agent assure that the home is ready for closing.
Settlement Services
When it comes to the real estate
settlement business
, the title and escrow company is often expected to provide real estate solutions when they are away from the office. At Key Title & Escrow, we have developed a platform to keep us flexible enough to accommodate our client's needs smoothly with no loss of accuracy.
Owner's & Encumbrance Reports
If you are looking for
owner or encumbrance reports
, Key Title & Escrow offers in-depth real estate closing services to help with any property issues that you might encounter on your way to closing on a property. We can also handle real estate transactions, such as title searches, title policy issuance, and document preparation.
Statewide Closings
Escrow closes as the title of the property has been transferred from seller to buyer and all the conditions of a real estate transaction are met. Whether you need help with
statewide real estate closings
or anything else, our
Florida title company
is a one-stop-shop for your escrow needs.
Escrow Closing Services
Whether this is your first house or you are a real estate mogul, closing on a house in Florida can be a headache that requires a lot of time and paperwork. When it comes to the final phase of buying a home or business, our
escrow agency
offers
escrow closing services
and other real estate services to assist you through the process.
Weekend & After-Hour Closings
So now that you have sold your home or at least gone through the paperwork and inspections needed to buy a home, all that is left is closing on the deal, but scheduling it can sometimes be difficult. For your convenience, Key Title & Escrow offers
after-hour closings
to be flexible for anyone who needs to schedule an appointment around work or other day-to-day happenings.
Statewide Notary Services
Whether you need help with a Florida mortgage closing, or you need help with Florida Notary services, our
title company
strives to quickly close real estate transactions, while keeping our client informed during the entire process. Our
Florida notary services
and real estate closing procedures make the closing process quick and painless.