Florida Escrow Services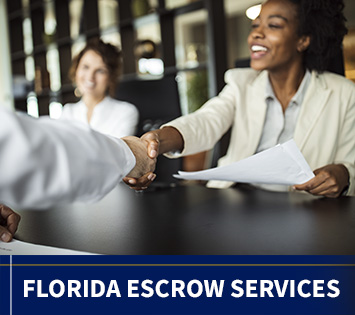 Are you looking for a reliable Florida escrow service to handle your real estate closings? Whether it's to hold money paid upfront to demonstrate the buyer's intent on purchasing the property or to manage funds to ensure the payment of home expenses in a mortgage, you can count on Key Title & Escrow. We have over 24 years of experience serving as a reliable and trustworthy third party in Florida escrow service accounts.
In your real estate closing, as your Florida escrow service company, our job will be to hold all documents and money associated with the sale of the property. As a reliable third party, we bring security to the buyer and seller by making sure everything is properly filed and recorded, and all obligations are met before any funds or papers exchange hand. Plus, all sensitive information such as social security numbers, bank account numbers, and loan account numbers are also kept secure by your Florida escrow service company.
Key Title & Escrow is also capable of managing your Florida escrow service when requested by your lender in a mortgage. As your Florida escrow service company, we will calculate and divide the annual cost of your property taxes, homeowners insurance premiums, and other expenses and divide them equally between each month of the year and charge as part of your mortgage payments. These funds are withheld by us, as your Florida escrow service account holder, to cover your property's bills once they are due.
Opting for Florida escrow service for a mortgage, while not always obligatory, will give you as a buyer the convenience of paying most of your home's expenses through a single monthly check. Plus, with Key Title & Escrow handling Florida escrow service, your lender will have the assurance that all bills are paid on time and no late fees, penalties or liens will be applied against the property. This alone substantially lowers the risk for your lender and can even result in lower mortgage payments for you.
Choosing Key Title & Escrow for your Florida escrow service
If you're going to use an escrow company for your Florida escrow service, keep in mind that not all offer all of the services associated with real estate closings. At Key Title & Escrow, we offer title services, title insurance and Florida escrow services, and our 24 years in the real estate industry give us the experience to deliver smooth, quick, and quality closings that exceed even the toughest expectations.
So if you're ready to close the deal on a new house or your lender is requesting a mortgage escrow, be sure to choose Key Title & Escrow as your Florida escrow service company by calling us locally at
(305) 235-4571
or toll-free at (800) 547-0006. You can also reach out to us by filling out the contact us form on our website and asking for our Florida escrow service. We look forward to being your Florida escrow service company.