Ocoee Title Company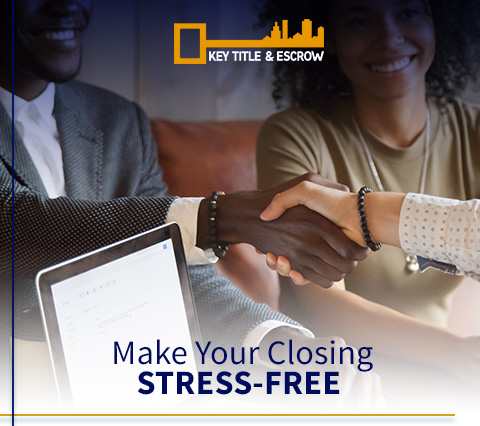 Are you looking for a Ocoee title company to close on your new dream home? Key Title & Escrow is a Ocoee title company offering a range of closing services to make your closing stress-free and without a hitch. Buying or selling a home can be an exciting time but worrying about all the details can put a damper on your excitement. The closing process requires tons of paperwork, inspections, title searches, and ensuring the necessary title insurance is in place. Finding the right local Ocoee title company to help you through the process can be the difference between a pleasant experience and a nightmare. At Key Title & Escrow, our customers never need to worry about the details.Key Title & Escrow is a professional Ocoee title company with more than 23 years in the business. We understand that purchasing a home might be the biggest financial step you take in your life. We know you need more than just a Ocoee title company. You need a Ocoee title company that has the experience you can count on to help you through the closing process. We offer a range of closing services, so you get everything done in one place when it's time to close on your new home. We provide complete closing services that include title and property searches, Florida homeowners' insurance, title insurance, record owner searches, and more. We open and manage an escrow account to ensure all of the important documents related to your closing are handled in a professional manner and the contents of the escrow are dispersed correctly.

See What Others Are Saying About Us

Tammy G - Miami, FLNovember 09, 2017
We had such a great experience at Key Title & Escrow. Our agent was extremely helpful, friendly, and professional. They were able to accommodate our busy schedules when it came to signing and made sure we understood all documents involved. Would definitely recommend this company to anyone in need of title and escrow services.
via:

At Key Title & Escrow, we are committed to being the best Ocoee title company for your local real estate closing needs. We also pride ourselves on providing the best customer service in the business. For your convenience, we even offer weekend closings. If you're looking for a Ocoee title company with experience and a commitment to customer care, Key Title & Escrow is the Ocoee title company for you. When you're ready to close, let us be your closing professionals. Call us to see what a difference a professional title and escrow company can make.
Title Company Ocoee, Florida
If you are in need of an experienced Ocoee title company, send us a message through our
contact
form or call us at
(305) 235-4571
, one of our Ocoee title company representatives will be happy to assist you.