Learn from a Trusted Title Company 9 Tips to Avoid Real Estate Scams
April 21, 2017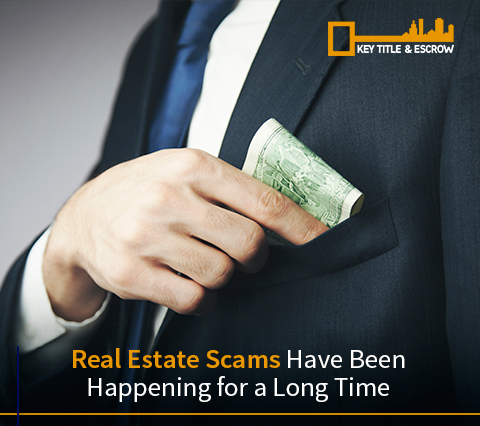 When you're looking to buy a new house, you might come across a great deal on a place that looks fantastic. A word of advice: if it looks too good to be true, it probably is. Real estate scams have been happening for a long time. In an article published by
The Sun Sentinel
, Paul George, a history professor at Miami-Dade College, believes that Florida's reputation as a fraud haven started with the 1920's real estate boom when people were offered a marshy, alligator-infested land as a piece of tropical paradise. With the passing of time and the advances in technology, scams have become much more sophisticated, but at the same time, more preventable. Therefore, we as a premier
Miami title insurance company
have decided to offer some tips to help you beware and avoid real estate scams.
Below you will find a list of potential scams and what to do to avoid them:
Mortgage relief scams
You are about to face foreclosure on your property and suddenly, out of the blue, you are contacted by someone promising to help you. They might try to convince you that they can help you renegotiate your mortgage terms with your lender, or that if you turn over your home to someone else while you apply for a second mortgage you can reduce the risk of foreclosure. They also claim that you can benefit from relinquishing your property title and allowing someone to rent out the house. In most cases, they will ask for an up-front fee. In other cases, scammers will claim that they can make the payments for you and you only need to pay them a fraction of your monthly fee, and that they will pay the full amount to your lender.

In most cases, these scammers will run off with your "up-front fee" and in other cases, such as above, they will stop paying your lender and run away with the "fraction" that you gave them, leaving you worse off and your house still in foreclosure.

The good news is that there are genuine programs and organizations such as HARP (Home Affordable Refinance Program) or HAMP (Home Affordable Modification Program) or Operation Hope that help people who are facing difficulties in meeting their mortgage payments.

It is illegal for any company to charge any advance fees. In some cases, attorneys can charge for advanced fees, but in such a case, you need to make sure you know who you are dealing with. To avoid these types of scams, simply ignore miracle rescuers who ask for upfront fees. Always keep your mortgage company informed about your situation and the steps you have taken to solve the issue; your advisor might be able to help you find an alternative. Lastly, never sign any documents you don't completely understand.


Identity theft
Identity theft involving a real estate scam can happen in different ways. For example, a person steals someone's identity to be able to access their property's title and attempt to profit by posing as the owner. Another way identity thieves work is by using another's person documents and financial information to get a loan.

To avoid these types of scams, make sure your real estate agent, broker, or attorney take the necessary precautions to make sure all your information is kept private. You should also monitor the activity on your bank account and credit card, so if there is any strange transaction, you can report it in a timely manner, before your credit score is ruined or you are left with a debt that you weren't aware of.


Email scams
All the advantages of the digital era have made our life a lot easier, however, they don't come without harm. Hackers can access email accounts and prevent you from sending emails while they send emails to all your contacts. Real estate agents are not immune to these malpractices. A hacker can access a real estate agent or broker's mailing list and send their clients emails requesting money. Of course, real estate professionals try to guard themselves against such events, but there are times when it is inevitable. When you receive an email that seems suspicious, double check with your agent before taking any actions requested electronically.


Double agent
Having a single real estate agent or broker represent both the buyer or the seller in a real estate transaction can have its perks and in some cases, helping to cut the costs for the interested parties. However, in some states, Florida included, this type of relationship is against the law and can be considered a scam. This type of business relationship can cause conflict. Some dual agencies will attempt to profit from this practice. If you do decide to do it this way, pay double attention to any document you sign and to all the information you provide and are provided.


Real estate listing scams
As impossible as it may seem, not all the properties that appear on a real estate listing may be up for sale. A skillful fraudster can arrange for viewings of properties that are not on the market, manipulate ads to include their information, and cash out on unsuspecting buyers. Never send money to an alleged real estate agent whom you've never met and always double check with the appropriate institutions. You can also always ask friends or family to recommend someone they know or have used in the past.


Title scams
Although it's unlikely, you may encounter a seller that falsely claims the property's title is clear of any liens or any other encumbrances when that is not the case. It has been reported that buyers who don't hire a title company end up buying a property that was about to be foreclosed. In other cases, the person trying to sell the house was not the lawful owner. Scammers will try to persuade you not to hire a title agency to review the property's title. Avoid this by hiring a title company; they can confirm if what the seller claims is true and if the title is clear.


Buying a house as-is
You found a place that meets all the items on your checklist, but it's a fixer-upper. Since the seller decided to sell it as-is, he promises a lower price and in exchange asks you to forgo a professional inspection. This should immediately raise a red flag. A seller should never request that a buyer skips on having an inspector check the house. This means they could be purposely withholding information, perhaps problems with the house that are not easily noticeable. To prevent this from happening to you, never deny your right to hire an inspector to examine the place before buying it.


Last minute fees or rate surge

You found a good deal on a pre-approved mortgage rate, decided on a house, and are about to make an offer. Suddenly, the lender decides to raise the rate. You can always withdraw the loan application. However, lenders who incur in such behaviors, usually convince the potential buyers to pay up-front fees. Of course, if you've already invested a significant amount of money, you are less likely to back out of a deal, even if they jack up the rates.

To prevent becoming trapped in a high-interest rate loan, compare the rate they offer to what is currently in the market. You also should be aware that if they ask for an up-front fee before you've even closed on a house, then they are probably not very honest.


Land sale scams
Purchasing real estate or land is one of the best investments you can make… who doesn't want to own their home? However, you need to beware of land sale scams. Many con artists make a living by luring in unwary buyers and offering to sell them worthless lots of land. In some cases, these fraudsters will convince the person to wire them advanced fees. To avoid this scam, don't rush into buying; before you jump at the first chance, do your research. Personally go to see the property, talk to residents in the neighborhood, and find the help of a reputable real estate agent and title company. Ask about the market value of similar properties in the area. Check out the plans for development in the surrounding area. Research the builders and the sales agent, learn about the company, and look into public records to know of any civil actions against the seller, agent, or developer.

The scam can go both ways—sellers with worthless lots of land can be contacted by scammers, who promise to sell it for them. The scammers request an up-front fee, but never have the intention of selling the land. If you can't sell your unwanted lot, it is highly unlikely that a sales company will be willing to do it.
The moral of the story?
Do your research before agreeing to or signing anything. From the realtor or broker's license expiration date to a personal tour of the house, apartment, or lot you are considering buying. Do a title search to check for potential liens or any other title defects. Using a reputable title insurance company can help find any problems with the property's title and make sure your money is where it should be.
Key Title & Escrow is a premier Miami title insurance company servicing all of Florida. Give us a call at (305) 235-4571 or fill out the
contact form
. One of our representatives will be happy to answer any questions you may have. You can also follow us on your favorite social media platform: find us on
Facebook as Key Title & Escrow
or follow us on
Twitter @KeyTitle_Escrow