Who Pays for Closing Costs in Florida?
October 29, 2022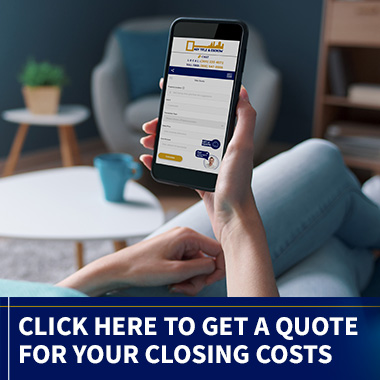 Buying or selling a home is in itself an expensive process. According to
PropertyClub
, "seller closing costs in Florida are usually between 5% - 10% of the home's price, while buyers can expect closing costs between 1% - 3%."
Given that we are talking about a substantial sum of money, it's only fair to know who pays what. That's why through this article, our title and escrow company will help you understand what the buyer and the seller are responsible for paying during the closing process and what is negotiable or can be covered by a third party. Additionally, you can get a quote on your closing costs by clicking the "Get a Quote" button on the right hand of the screen or by visiting our
Closing Costs Quote Page
.
COSTS COVERED BY THE SELLER
To reap the benefits of selling their property, sellers are expected to cover most of the selling costs.
Apart from paying off the mortgage and any debt, sellers in Florida are expected to cover commissions, taxes, fees, and penalties, which often cost between 5% and 10% of the property's value.
Mortgage Payoff and Prepayment Penalties
The seller must cover any outstanding mortgage payments in full before closing on the property, plus any existing prepayment penalties for paying off the mortgage early.
By including prepayment penalties, lenders protect themselves from the loss of revenue of not collecting all of the interest they would if the loan had lasted as intended.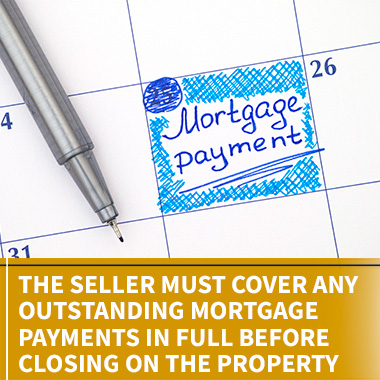 Title Search
Before the property is transferred, a title search is required to ensure it's free and clear to sell. Public records are thoroughly researched through the title search. All necessary investigations are done to ensure no liens, easements, and other encumbrances and that the seller has the total and undisputed legal capacity to sell the property.
Title Insurance
Once the title search is done and all known defects are amended, title insurance can be purchased as financial protection from missed or undiscovered issues.
In 63 out of the 67 counties in the state of Florida, the seller is expected to pay for title insurance. Buyers cover this coverage only in Broward, Dade, Manatee, and Sarasota.
It's important to note that title insurance is optional -—only required by lenders when a loan is given-— and is up for negotiation on who pays for it, regardless of which county the closing takes place.
Documentary Stamp Taxes
In the state of Florida, transfer taxes come in the form of documentary stamps.
According to
Florida's Department of Revenue
, they're calculated at 70 cents for every 100 dollars of the property's value set on the deed.
This rate applies in all counties throughout the state, except for Miami-Dade, where it's 60 cents for every 100 dollars, plus a surtax of 45 for every 100 dollars -—surtax not due to single-family home transfers.
Real Estate Commission
Real estate commission is none other than the way realtors get paid, and it's a small percentage of the property's value. The average real estate commission in Florida is around 5 to 6%.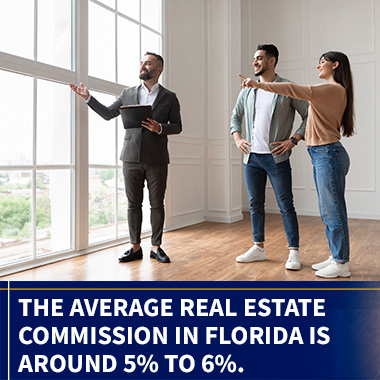 Although the real estate agent's presence in the transaction benefits both parties, in Florida, their commission is paid by the seller. It all comes down to the fact that the seller receives the money in the transaction.
COSTS COMMONLY COVERED BY THE BUYER
In addition to the money to purchase the property, buyers have to cover a handful of closing costs to ensure there are no severe problems with the property and to complete the transfer.
Plus, buyers must pay for all expenses necessary to secure the loan if purchasing through a loan.
Loan Origination Fees
When buying a home through a mortgage loan, lenders typically charge 0.5 to 1% of the amount to open the account. They'll also pull a full credit report, which costs between 175 and 200 dollars in Florida.
Credit Report
According to
Equifax
, a credit report is a summary of a person's credit history, including the types of credit accounts he's had, his payment history, and certain other information such as credit limits.
Appraisal
An appraisal is a valuation of a property by the estimate of an authorized appraiser. The lender will require a home appraisal to ensure the property's objective value is in line with the loan amount.
If the appraisal is lower, the buyer and seller may have to renegotiate the property's asking price.
Survey
Another prerequisite for getting a loan is to have a land survey. A survey is a graphic layout of the property, which maps its legal boundaries and other features. It's used to solve any issue that might arise during the real estate transaction and help clarify any claim.
Home Inspection
Apart from a clear title, every buyer will want to make sure the property has no significant flaws or needs repairs.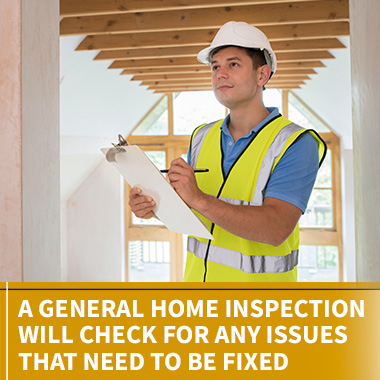 A general home inspection will check for any issues that need to be fixed, can notify if a specialized inspection is required, and can even help dissolve the sale if anything significant is discovered.
Settlement Fee
In every real estate transaction, there's a person or company responsible for making sure all the money is collected, verified, and disbursed as established in terms of the contract and loan documents. A settlement agent or escrow holder can perform this role.
In Florida, the buyer commonly covers services rendered by this person or company. However, they can be negotiated between the buyer and seller.
Recording Fees
To close the transaction, documents must be produced and recorded. To do so, the buyer must pay a recording fee to the county, which is calculated according to the cost of the home, the number of pages the document has, and the total of names on the document.
COSTS COVERED BY THE LENDER
For buyers who like to keep things simple and can afford to spend a little more in the long run, there's something called a no-closing cost mortgage.
With a no-closing cost mortgage, the lender pays for closing costs; in return, the buyer pays higher interest rates throughout the loan.
CHOOSING KEY TITLE & ESCROW TO HELP YOU CLOSE
As you can tell, the closing process and all of its costs can be overwhelming. That's why you need an experienced and reliable title and escrow company to guide and help you throughout your closing.
At Key Title & Escrow, we offer a complete set of real estate services in Florida. We can handle your closing from start to finish. Call us at
(305) 235-4571
or toll-free at (800) 547-0006. You can also fill out the
Contact us
form on this page and we will get back to you as soon as we can. We will be more than happy to take care of your closing needs.