Florida's Premier Title and Escrow Company, Key Title & Escrow, Launches a New, Mobile-Friendly, SEO Website
November 07, 2016
This new website has a sleek web design that follows current trends, is user friendly, and seeks to boost their online presence.
Miami, FL - (PR WEB – 11/07/2016 9:00 AM EST) – Key Title & Escrow, leading
title and escrow company in Florida
, is proud to announce the launch of their new website. Considering the advances in technology, the ever-changing trends in web design, and their goal to improve their customers' browsing experience, they decided to launch a new, mobile-friendly, SEO website with a fresh design and a professional look.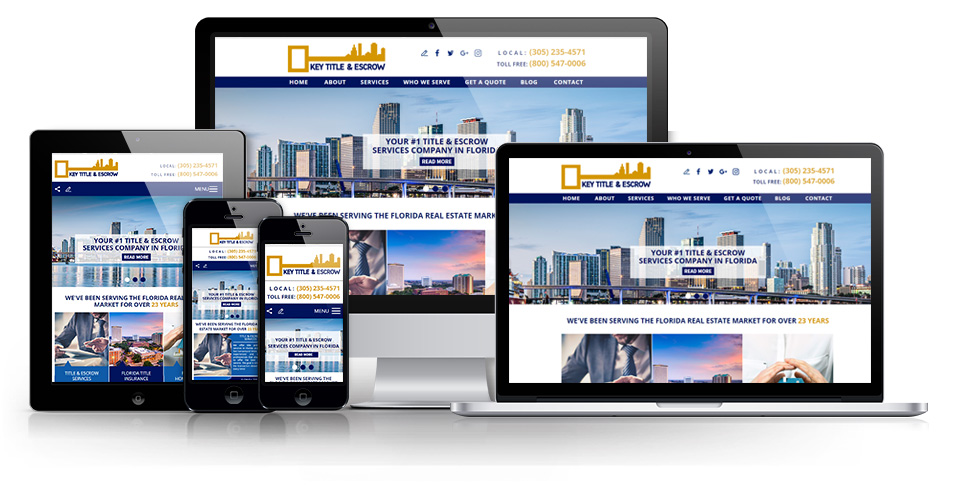 "As a title and escrow company, we always aim to offer our customers access to the latest real estate closing technologies through our state-of-the-art electronic systems. For this reason, we thought it was time for our website to reflect that. This new site looks very professional, it has improved usability, and it's mobile friendly and optimized for search engines, offering our customers a superior browsing experience. Our customers can now access our website from their laptop, desktop, tablet, or mobile phone,"
said Robert MacDougall, owner of Key Title & Escrow.
The new website provides detailed information about the company's services, which is available to realtors, lenders, and buyers who are seeking a reliable and effective title and escrow agent that is able to work statewide.
Key Title & Escrow has been serving the real estate industry for over 24 years and is known statewide for their quality and efficient closings. Key Title & Escrow is headquartered in Miami, Florida, and offers a wide variety of title & escrow services, such as property title searches, judgment & lien searches, record owner searches, residential title services, refinance transactions, home purchase transactions, settlement services, owners & encumbrance reports (O&E), statewide closings, escrow closing services, weekend and after hour closings, statewide notary services, and an online transaction management system.
Key Title & Escrow has also partnered with the most reputable national insurance companies to offer title insurance and homeowners insurance, helping their clients safeguard their property. They rely on a team of professional title officers, examiners, attorneys, underwriters, and escrow officers who are experts in their fields and are extremely knowledgeable about the local real estate market. Additionally, they offer a reliable resource for carrying out online property title searches.
If you wish to learn more about Key Title & Escrow's title and escrow services, visit their website at
www.titleescrowmiami.com
. If you have any further questions, you can contact them by calling
(305) 235-4571
or their toll-free number
(800) 547-0006
.