A Step by Step Guide of What to Do Once You've Signed a Purchase Agreement
August 30, 2017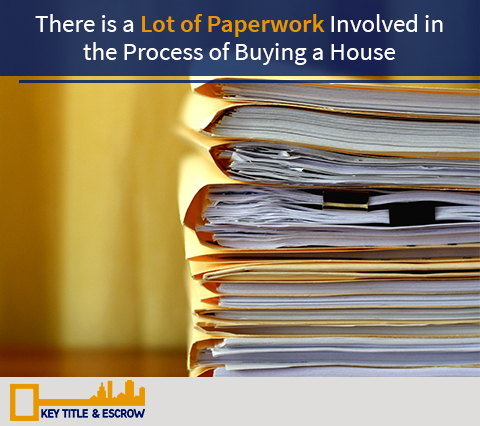 You've found your dream home, placed an offer, and it has been accepted…but what comes next? Unless you've bought a house before, you probably have no idea what goes on during a real estate closing. There is a lot of paperwork involved in the process of buying a house, from the moment you start shopping around and choose a realtor to the minute you receive the keys to your new home.
In this entry, we offer some insight on what happens from the time your offer is accepted to when you officially become a homeowner.
Get a mortgage pre-approval

This is not a requirement to close a deal, however, there are many advantages to it: it can help you seal the deal more quickly, serve as a bargaining chip when negotiating the selling price, and if you get a rate lock with the lender, you'll be protected if interest rates surge before closing.


Open an escrow account

An escrow account is what protects sellers and buyers from getting ripped off. How? Since there are many steps involved in completing a home sale once a purchase agreement has been signed, the escrow account is held by a neutral third party, which holds the transaction's money and documents until all pertaining matters have been settled.


Have an experienced company do a title search

Once the purchase agreement has been signed, it is important that you hire an experienced title company to carry out the title search. As we mentioned in a previous post, this is a crucial step of the real estate purchase, and it should be done before the closing is completed. A title search is aimed to find any possible liens or other encumbrances that might threaten the buyer's ownership in the future, such as back taxes, judgments, hidden deeds, unreleased mortgages, undisclosed heirs, forgery, and others. A qualified title company will be able to quickly identify any potential risks that might jeopardize the future owner's claim to the property.


Get title insurance

Once the title search is done, the same company will issue a title insurance policy. This is done to prevent that even if there weren't any problems uncovered when the title search was carried out; the owner is still protected in case a property ownership dispute arises.
Additionally, you might want to carry out a pest inspection to make sure that your potential new home is not infested with wood-damaging insects such as termites. Even though this can be solved, you want to make sure the costs are reasonable or that the seller is willing to cover them. Because a pest infestation can get pretty bad pretty quick, many lenders require that it is fixed before closing the transaction.


Have home and pest inspections done

This comes hand in hand with including a home inspection contingency in your purchase agreement offer. Even though sellers are mandated by law to sign a disclosure agreement, where they reveal any potential problems that their property has, it is always recommended that buyers carry out an independent professional home inspection. This way, if you find a serious problem with the property you plan to buy, you can either back out of the purchase, have the seller fix it, or ask them to deduce the reparation costs from the selling price.


Renegotiate the offer

This is related to the point above. If the inspections reveal that the property has physical, structural, or biological issues, you can renegotiate the offer – even if it has already been accepted – to compensate for any repairs you might need to carry out. You can do this unless the purchase agreement states that you have agreed to buy the property "as is." If that is the case, you could still ask, but the seller is under no obligation to comply.


Fund the escrow account

When you signed the purchase agreement, you made an earnest money deposit to let the seller know you are truly interested in buying the property. Once everything is ready and agreed upon, you need to deposit additional funds into the escrow account. The amount you need to deposit corresponds to the rest of the down payment (=total down payment – earnest money deposited) and the closing costs.
In some cases, the seller may agree to pay the closing costs, in such a case, the buyer would only deposit the rest of the down payment.


Do a final walkthrough to check that everything is in order with the property

When you sign a purchase agreement, it should state that you're entitled to do a final walkthrough of the home 24 hours before the closing is due. This way you can ensure that: 1) the property has been vacated, 2) it is in the condition that you agreed to buy it in and any agreed repairs were properly carried out. Even if you are eager to start the moving process, you should never forgo your final walk-through. You don't want to find any unpleasant surprises when you move in and when there is nothing you can do about it.


Sign the papers

After all's been said and done, you need to sign the paperwork to transfer property and money to each party. Make sure to take your time and carefully read every document you are requested to sign.


Get your keys

Once all papers have been signed and funds have been released, you'll get the keys to the property. Now it's time to move in and start enjoying your new home.
This post is meant to serve as an informative guide. If you are planning on purchasing real property, we recommend that you contact an experienced real estate professional.
Key Title & Escrow is a
Florida escrow company
servicing throughout Florida. Give us a call at
(305) 235-4571
or fill out the
contact form
,one of our representatives will be happy to answer any questions you may have. You can also follow us on your favorite social media. Find us on
Facebook as Key Title & Escrow
, or follow us on
Twitter @KeyTitle_Escrow