Are you thinking about buying a foreclosed property? Here are 14 things you should know
September 27, 2017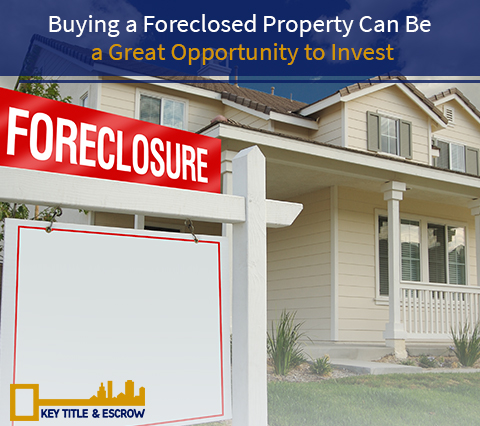 Sales due to foreclosures happen when a homeowner falls into debt—and their home used as collateral—or when they fall behind on their mortgage payments to the point where the lender decides to pursue legal action. There are different processes through which a house can be put up for foreclosure. Depending on the state, a lender can foreclose without taking the matter to court; while in others, the lender must file a lawsuit in order to foreclose. The former is known as nonjudicial foreclosure and the latter is known as judicial foreclosure.
Buying a foreclosed property can be a great opportunity to invest or to simply buy your home at an advantageous price. However, there are some things you need to take into consideration before deciding that this is the right choice for you. It is also necessary to learn whatever you can about the laws that rule the state where you are planning to buy.
That's why in this entry, we decided to offer some insights into what is involved in buying a foreclosed property and some things you need to look out for.
Things to be aware of
Is a foreclosure sale legal in Florida?
Foreclosures in Florida
can only happen after the lender has taken the debtor to court, but yes, once the court has ruled in favor of the lender, it is legal to sell foreclosed houses.
Most Common Type of Foreclosure Procedure in Florida
In Florida, the judicial foreclosure is the primary method for mortgage foreclosure. Because of Florida's law, it can take a long time to sell a house in a foreclosure auction. In fact, according to this article published on
All Law
, it has been reported to take 935 days on average (approximately 2 ½ years).
Special Foreclosure Protections in Florida
The law in Florida provides protection against citizens on military service. According to
Chapter 250, Section 2505 of Florida's Statutes
, a member of the military who took out a mortgage before going on active duty cannot have their home foreclosed, neither during their time in the service nor for 30 days after they've completed it unless a court issues an order to allow it.
Right to reinstate the mortgage before the foreclosure sale in Florida
The right to reinstate—or catch up on mortgage payments missed to stop a foreclosure—is not contemplated under Florida's law. However, most lenders give borrowers the opportunity to reinstate the loan within a specific time frame.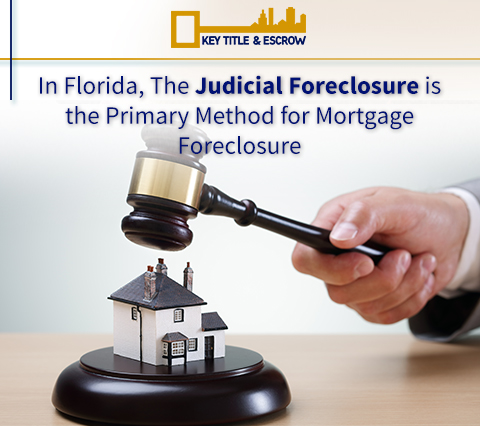 What is REO?
REO stands for Real Estate Owned. This is the name of foreclosed property (s) that have failed to be sold in foreclosure auctions. Properties' ownership is transferred to the bank or lending institution when none of the bidders offer the amount the lender seeks to cover the loan.
What is a Short Sale? Is it a foreclosed property?
A
Short Sale
is one where the lender has agreed to accept a discounted price in exchange for releasing an existing mortgage. In this case, the property has not been foreclosed yet, but either the lender or the buyer is seeking to release the mortgage. Commonly, homeowners find themselves in this type of situation due to financial problems, which make it impossible for them to fulfill the agreed contract and they can't find a buyer willing to pay the full amount.
Where are foreclosed properties listed?
Most banks list their foreclosed properties on their websites and there are sites specialized in listing these types of properties.
Florida's Redemption Law
In Florida, the homeowner can redeem their home at any time before the court clerk files the sale's certificate or the time specified in the judgment. This means they can repurchase the property within a specified time period.
Things you should beware of
In Florida, foreclosure law is "buyer beware"
"
Buyer beware
" or
Caveat Emptor
is a contract law term commonly used in real estate transactions that means it is the buyer's responsibility to perform due diligence before the purchase. This is applied for foreclosure purchases; so if you want to buy a property under such condition, you should hire a real estate professional to help you gather all the information pertaining to a foreclosed property before presenting an offer.
The foreclosing lender might be a junior lienholder
Many people seem to think that second mortgage creditors cannot foreclose, however, this is not necessarily true. The junior lender has the lawful right to do so if the borrower has fallen into debt, but the first lienholder always takes precedence, and other types of liens might be even above the mortgage, e.g. a tax lien. When a junior lienholder decides to foreclose on a property, it needs takes on the first mortgage, so what they usually do is put the place up for rent until the first mortgage is fully paid. This is closely related to performing due diligence and the best way to do it is finding an experienced
title agent
to carry out a comprehensive title search for you.
Homes are frequently stripped bare
Some homeowners damage the property before they move out by removing appliances, light fixtures, faucets and other gadgets necessary to make the house functional. The buyer of the foreclosed property will have the burden of repairing it, so you need to take this into account when calculating the amount you'll offer for the house.
Don't expect disclosures on REO properties
This means you won't have any knowledge of the property's historical record. Due diligence is of utmost importance here. All information publicly available needs to be checked thoroughly, and work with your agent to learn as much information about the property as possible. If it was sold in recent years, they might be able to get a hold of past disclosures.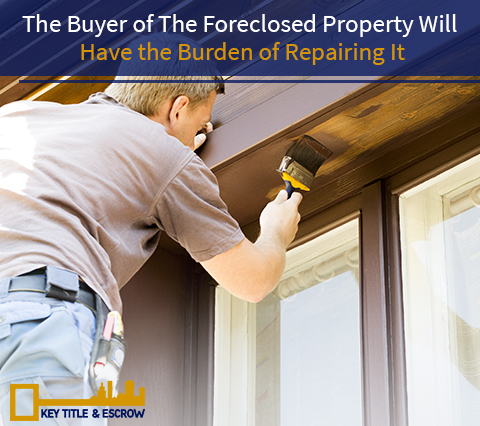 Short sales processes
Beware when buying properties on short sales—it is not a simple process and closing the transaction can take longer than buying a property at market value. You need to do proper research before making an offer. Your title agent can find out if there are any liens, foreclosure notices and what amount is owed. However, if there are two loans attached to the property, it is probably best to pass.
The bank will follow its own process
The bank or lending institution won't follow the standard norms and processes of the local real estate industry. This includes the contract from the local board of
realtors
. They will draft their own contract to preserve their interests and protect themselves from any potential law suit. The sale would be done "as-is", putting most of the burden on the buyer.
These are some of the aspects you should keep in mind when looking to buy a foreclosed property. We can't stress enough how important due diligence is in this kind of transaction. Investing in a foreclosed property can be a smart decision, but it has to be done wisely. That is why it is important that you work with experienced real estate professionals such as realtors, real estate attorneys, and title agents to help you make the right decision.
Key Title & Escrow is a premier
Miami title and escrow company
providing services to all of Florida. If you are looking for the most efficient title and escrow services available in the Sunshine State, give us a call at
(305) 235-4571
or send us a message through our
contact form
. One of our title specialists will be happy to help you.
You can also follow us on your favorite social media: find us on
Facebook as Key Title & Escrow
or follow us on
Twitter @KeyTitle_Escrow