The Importance of an Experienced, Quick, and Reliable Title and Escrow Company
February 27, 2017

You have gone through the process of finding the house of your dreams, you have applied and been approved for a mortgage, and you are now ready to close the deal. We understand that the whole process of buying a home can be overwhelming at times; all the paperwork, contracts, and people involved can make it confusing and stressful. That is why in our previous post:
3 Steps You Need to Follow before Hiring an Escrow Company if You Plan on Buying a Home in Florida
, we offered a simple guide on what to do from the moment you decide to buy a house, to the moment they hand you the keys to your new home. In this post, we want to explain why hiring the right title and escrow company is necessary if you want to experience a stress-free closing process.
An experienced, quick, and reliable title and escrow company can be of great assistance when it comes to handling several processes that happen before and during the closing stages of a real estate transaction, such as: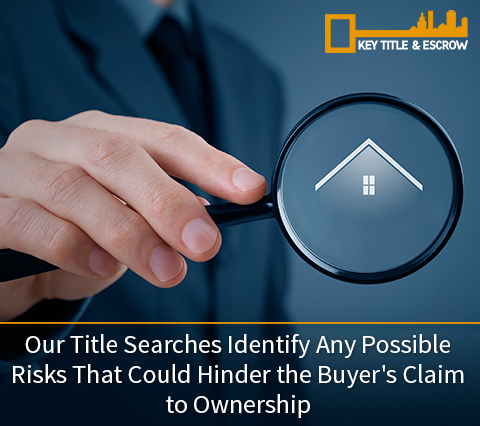 Carrying Out Title Searches
This is a most important stage during any real estate transaction. A title search must be completed before the closing takes place. It is the job of the title company to inquire about and find any possible threat to the buyer's potential ownership. In order to achieve this, they examine utility assessments, taxes, liens, judgments, hidden deeds, and any other encumbrances that might affect ownership such as unreleased mortgages, forgery, or undisclosed heirs. Sometimes the title company might even have to investigate issues related to zoning and restrictions of use or restrictions for improvement. There are a number of different potential problems that can come up in a title search, and even though these problems can be found easily by searching public records, an inexperienced person wouldn't know what to look out for. An experienced title and escrow company will be quick to identify any possible risks that could hinder the buyer's claim to ownership. That's why the help of a reliable and skilled company is imperative during this process.
Issuing Title Insurance
Another service that title and escrow companies offer is title insurance. Even though this process should ensure that your title is free and clear of any encumbrances, it is virtually impossible to be 100% certain that nothing is going to come up later that will cause your property ownership to be compromised. Once the title search has been conducted, you want to be certain that you are protected against anything that might have been missed during that process and the way to do that is by getting title insurance. A trustworthy title and escrow company will be able to provide a sound title insurance policy that will help you protect your investment.
Provide Closing Cost Estimations
It is the responsibility of the title and escrow company to provide detailed information about the estimated closing costs of the real estate transaction.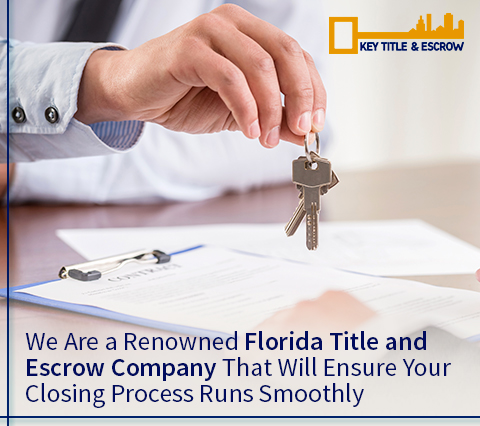 Serve as a Closing and Escrow Agent
A title company may also serve as a closing agent and/or escrow officer during settlement. In this case, your title company will act as a mediator between the selling and the buying party, ensuring that all necessary documentation is signed and recorded. The title company will also oversee that all funds, including closing costs and down payments, are paid and properly disbursed.
A reliable title and escrow company will ensure that your closing process runs smoothly, without any unforeseen hassles. It is a great advantage to work with a local company that has extensive knowledge of the local, state, and federal regulations, and how they can affect the closing process.
Key Title & Escrow is a renowned
Florida title and escrow company
that can help you with your title and escrow services' needs. Give us a call at
(305) 235-4571
or fill out the
contact
form. One of our representatives will be happy to answer any questions you may have. You can also follow us on your favorite social media: find us on
Facebook as Key Title & Escrow
or follow us on
Twitter @KeyTitle_Escrow