Innovative Title and Escrow Software Used in Real Estate: Advantages and Disadvantages
June 30, 2017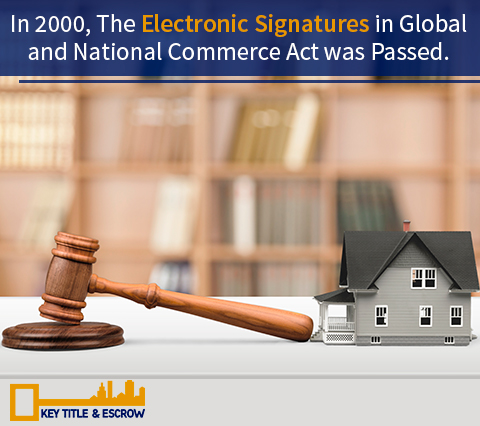 In 2000,
The Electronic Signatures in Global and National Commerce Act
was passed. This law recognized that signatures and contracts would not be deemed illegal, invalid, or non-enforceable if they were only in electronic form. This basically means that the law should give equal treatment to electronic and traditional signatures, including in real estate finance, and that document signatures can be done electronically—including obligors, lenders, notaries, or witnesses. That same year, the first paperless real estate transaction was carried out in the U.S., in Florida's Broward County. These types of transactions saw a halt for many years, but have recently surged with the release of innovative software that cater to real estate and title and escrow companies in Florida and nationwide.
There are a great number of advantages and disadvantages to using paperless transactions when purchasing or selling a property, and it is important as a buyer or seller to understand what these are. That is why our
Florida escrow company
has listed the main benefits and drawbacks of taking the electronic road.
Advantages
All the paperwork will be in one place
Using title and escrow software to handle real estate transactions helps optimize the paperwork processing. All the necessary documents are organized and kept in one place where all interested parties have access to it in just a few clicks. Having a friendly closing system allows realtors and lenders to communicate better all throughout the closing process, increasing efficiency.
Because there is no need to print, sign, collate, or wait for hard copies to arrive by mail and then take them to the recordation office to be registered, electronic closings are not only faster, but they can also be done remotely. A concise and friendly closing system makes real estate transactions much simpler. When a specific document needs to be pulled out for revision, there is no need to go through hundreds of documents stored in file cabinets; with just a few clicks, the document can be retrieved and revised. A traditional real estate transaction process can last days or even weeks. Electronic signature and
paperless transaction software
can considerably reduce these times.
This type of software can help real estate professionals make sure they comply with all the rules and regulations stipulated by law. Moreover, it improves document accuracy. Gone are the days when a realtor, lender, or escrow holder had to chase someone down because they missed a signature or forgot to fill out a crucial part of a document. This way, all those involved can keep a thorough record of the entire process, while keeping clients up-to-date about what's happening during any stage of the real estate transaction process.
The chances of making a mistake are minimized
Another advantage of using an electronic platform to carry out real estate transactions is the fact that the chances of making a mistake are minimized. It is harder to get confused about the stage of the underwriting process if you have a tracking tool that keeps you updated with just one click, and it is nearly impossible to confuse one client's documents with another's.
It saves time and money
All the advantages mentioned above can be summarized here. With electronic transactions, there is no need to track and carry around hard copies (which involves printing, mailing, filing, copying, etc.). The ability to have all paperwork, signatures, etc. in one place, the fact that -provided some passwords- documents can be accessed from virtually anywhere, and the minimization of errors, translate into saving time and money. Electronic transactions also mean reducing the costs of printing, faxing, and sending documents via regular mail.
Disadvantages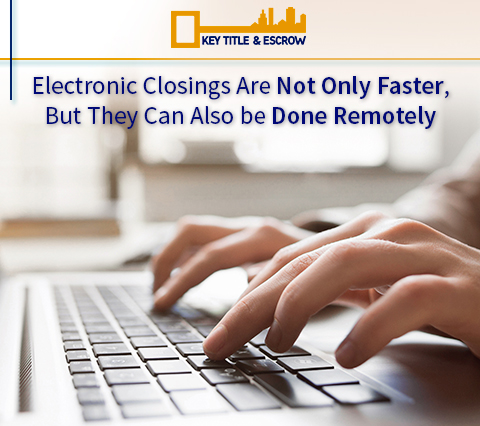 When it comes to electronic signatures, security risks depend on the type of software used. Not all real estate software developers offer the same level of security or the same capabilities; some simply work as a file manager system, while others can be used to do every single step of the closing process, from title searches to recordation. Also, the more information one shares electronically, the higher the risk of fraud, hacking, or credit card theft—it's a matter of statistics. However, measures can be taken to minimize security risks. The first one is making sure the software the company you decide to work with offers the required level of security. Additionally, companies can carry out annual or even quarterly verifications on their processing software and evaluate their practices to ensure they are up-to-date with the ever-changing digital world.
It can be challenging for people who are not tech savvy
The use of electronic closing systems, especially those that are website based, can be difficult for people who are not comfortable using computers. This can be a hindrance for a smooth transaction.
What will happen if there is a computer failure? Besides looking for an alternative way to access the documents, it might also be necessary to look for backup options. What if this happens in the middle of a crucial part of the closing? How about if the internet connection is severed? Systems that are dependent on the cloud might delay the process, as documents might be hard to retrieve, modify, or save.
It has been said that going paperless is green and sustainable. However, according to an article published by
The Guardian
, there isn't concrete information to say, without a doubt, that this is the case. There are several factors that need to be considered before we call a paperless office "green" or environmentally friendly. For example, electronic devices need to be constantly plugged in and they are made of unsustainable materials. In fact, according to that same article, electronic waste is increasing at a global rate of 40 million tons per year. Moreover, the website
dosomething.org
, states that only 12.5% of e-waste is currently recycled. There is still a debate going on whether being completely paperless is actually more beneficial for the environment than using paper from sustainable sources.
Buyer's uneasiness
One of the most common perceived risks of electronic closings is that it's not secure enough, which tends to cause a great deal of concern. However, there are several technologies available that allow for safe and secure electronic real estate transactions, which include signature authentication.
E-Closing
At Key Title & Escrow, we use
E-Closing
for our operations, which has allowed us to adopt a paperless environment. This software was designed by title agents and is used by thousands of real estate professionals for both residential and commercial closings nationwide. It provides closing disclosure forms, title commitment and policy templates, and title premium calculations. Also, we are able to handle escrow accounts, since it provides a complete escrow account system, as well as a scheduling and transaction management system. Documents, information, and any other data are secure against cyber-attacks because E-closing encrypts all documents in transit using high-grade encryption.
Technology has invaded our everyday life to our benefit some time ago; it makes our social life more fun and our work life more efficient and organized. That's probably why this article published on
stewart.com
, states that fully electronic closings in the real estate industry are the future, it has been demanded by customers and the process can only make realtors, lenders, and title and escrow companies more efficient, and in turn, improve their customer service.
Key Title & Escrow is a renowned Florida escrow company that can help you with your real estate closing needs. Give us a call at
(305) 235-4571
or fill out the
contact form
. One of our representatives will be happy to answer any questions you may have. You can also follow us on your favorite social media: find us on
Facebook as Key Title & Escrow
or follow us on
Twitter @KeyTitle_Escrow